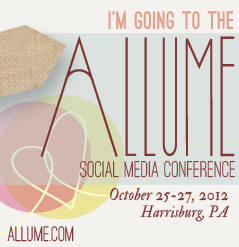 Allume Social Media Conerence
I feel incredibly blessed to be attending the Allume conference next week along with an esteemed group of Christian women bloggers who want their voices to contribute to Kingdom work. 
"The Allume conference exists to offer a gathering place for kindred spirits to connect, learn, grow, and be refreshed so they can persevere in being a people who bring hope to the world through the social media medium. We want to reflect His Light in all our spheres of influence. Our goal is to go beyond the surface into intentional blogging and real life living, all to the glory of God. Allume is a one-of-a-kind conference that seeks to engage women by teaching blogging techniques and social media skill while also urging and encouraging women to live fully integrated lives with their faith and family."
Certainly the temptation to doubt my place there is great, so I'm asking for your prayers that the Lord would open doors of opportunity for new friendships and meaningful connections without the creeping shadows of insecurity.
Also, (and I'm embarrassed to admit this) because I was trying to be all "Gazelle Intense" and not charge anything to our credit card, I forgot to book my hotel room!!
[GIANT EEK!!]
I feel ridiculous.
Needless to say, the only rooms left at this point are "executive" rooms and run double the price of the generic rooms that I should have booked. So I'm wondering if any of you would consider blessing me with your Hilton points to off-set the cost of my room for three nights? Even one night free it would be a tremendous gift!
I thank you for your readership. Thank you for writing and encouraging me. Thank you for telling me of the moments when the Lord has used something from this blog to touch your life.
Thank you, also, for the precious and powerful gift of your prayers as I travel alone and pull back the curtain on my own hurdles.
And a giant thank you to the person who is considering right now whether God would have them share their Hilton points. I pray you would not only decide to give, but that your giving would be joy-filled.
You can find my inbox at: janeg75@gmail.com